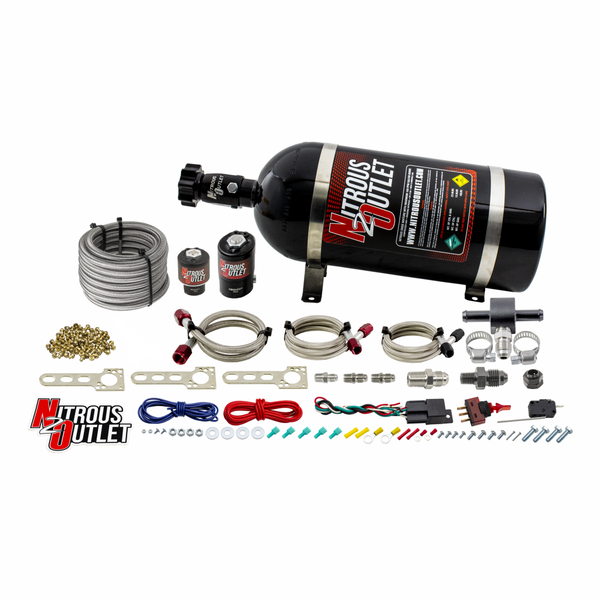 NO-4004 Billet Valve Nitrous Kit
We've teamed up with Nitrous Outlet to offer the best nitrous kits on the market! Over the years we've used every nitrous kit available and Nitrous Outlet products are a cut above the rest! It's for this reason that we're offering Nitrous Outlet kits exclusively as a companion to KS Tuned Spray Plates.
ALL NITROUS KITS WORK WITH KS TUNED SPRAY PLATES – BUT WE PREFER NITROUS OUTLET!
Flow Up To 400HP:
The Billet Valve Nitrous System is the one you want for dual stages or when spraying over 200HP! These systems are top of the line and include Nitrous Outlet's exclusive billet bottle valve which has many unique feature including a built-in pressure gauge port and huge -6AN Nitrous feed fitting! This system comes out of the box with everything you need to spray 200HP, but can spray up to 400HP with additional jetting. Everything needed to connect to a KS Tuned Spray Plate is included in this kit.
Superior Atomization:
This kit requires a KS Tuned Spray Plate!
Complete System:
Once you add a KS Tuned Spray Plate, this system includes all of the necessary components; billet aluminum nitrous plate, 50-200 HP jetting, hardware, and wiring to properly install a wet nitrous system on your vehicle.
Wide Open Throttle Activation:
This system includes a wide open throttle (WOT) switch that only allows the system to be activated when the motor is at full throttle. This safety feature will help prevent engine damage and lean spikes. For the cleanest installation use a Kaizen Relay to trigger at WOT – contact us for details!
Application:
This system is compatible with all KS Tuned Spray Plates and most late model EFI vehicles.