Burton Racing Coil On Plug Kit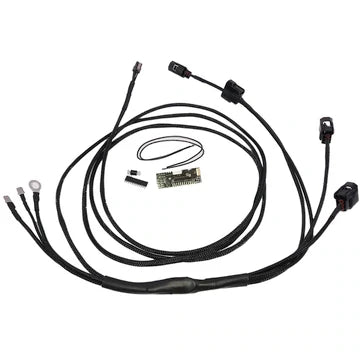 The Burton Racing coil on plug retrofit is the latest in Honda & Acura coil conversion technology. This kit offers the benefit of more spark energy to increase horsepower and fight spark blow out under high RPM/high boost applications. Even increasing drivability with smoother idle, faster starts, and reliable steady pulls throughout the RPM range.
We have successfully used this kit on cars and chassis in the Honda/Acura family years ranging 1988-2001 with common engines such as B16, B18, B20, D15, D16, F20, F22, F23, H22, H23, etc...
This setup is the least invasive to install and 100% reversible without requiring any cutting or splicing necessary. This product does require soldering into the ECU. If you'd like to send us your ECU for the installation, we will do all of the soldering for you.  Please contact us for further instructions to send your ECU in for installation.

NO TUNING NECESSARY!
No other hardware or software required! Compatible with a completely stock OBD1 ecu or with common tuning software's available today such as Hondata, Crome, Neptune, ECTune, BMTune, etc.. as well as the RTP devices like Hondata S300 and Moates Demon boards.
Just like common setups on the market today you will be able to remove the Coil, Igniter (ICM), and rotor from the distributor to install a low profile distributor cap and bypassing those components common to failure!
It requires a USDM OBD1 ecu equipped with an FC1 knock board slot such as P06, P28, P30, P61, P72, and P75. On ecu's already equipped with a knock board it will require removal, please note stock knock sensors are highly unlikely to be utilized under any type of after market tuning situations and deemed unnecessary. They are easily removed and/or disabled inside the tuning parameters.
Like all Coil on Plug systems you are REQUIRED to run resistor type spark plugs. If you are unsure of your plug choice please contact your parts supplier or cross reference the part numbers online. We highly recommend using the NGK BKR series of spark plugs for Honda and Acura applications.
There currently is a wide range of coil mounting hardware or techniques. Most applications for VTEC DOHC engines are utilizing K20 coils and SOHC engines mainly use D17 coil packs.  This kit pairs perfectly with our H22/F20B/H23 VTEC coil plate and OEM Honda K20 ignition coils.