Fuel Injector Clinic Injector Set, 650cc FIC Honda B, H, & D Series (except D17)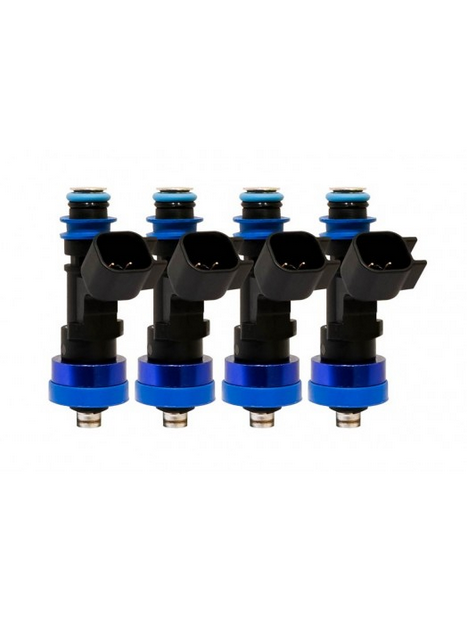 Fuel Injector Clinic offer the perfect solution for affordable, high quality injectors to fuel your build.
Honda B, H, & D Series (except D17) Fuel Injector Clinic Injector Set: 4x650cc Saturated / High Impedance Ball & Seat Injectors. Utilizing the latest injector technology and featuring state of the art matching with Data Match Technology. Great for E85 applications! Includes pigtails PGT USC4 or add Plug & Play adapters (OBD1) PADPUtoJ4 or (OBD2) PADPUtoH4.
This injector set is precisely matched using Fuel Injector Clinic's proprietary Data Match Technology. Each injector is individually serial numbered and the results are provided on the Data Match Sheet providing the most complete flow matching and latency value information available in the industry today.

Fuel Injector Clinic injectors are flow tested and rated at 43.5psi (3Bar) at 90deg F fuel temperature using CF-16B calibration fluid.

Superior short pulse width control and state of the art matching make these injectors easy to tune and provide great drivability.

Fuel Injector Clinic injectors are set up to and include all o-rings needed to fit the factory application for the listed vehicle. If you are using aftermarket or other unusual setups please contact us prior to placing your order to make sure you receive injectors that fit properly.

Every injector is covered against failure caused by defects in original manufacture by FIC's lifetime warranty.
This set of injectors requires you to change the injector plug on the wiring harness in your car. This can be done by soldering in the pigtails (included with purchase) to replace the plugs currently on your harness, or you can choose to purchase the optional plug-n-play adapters which will convert from the type of plugs on these injectors to the plugs on your harness without any need for cutting or soldering.

This plug conversion is made necessary because FIC always chooses to provide brand new, unused injectors for its performance applications. We do not believe that increasing the chance of a failure due to using remanufactured or core program based injectors is ever warranted.