H22 Euro-R Manifold RDX Injector Adapters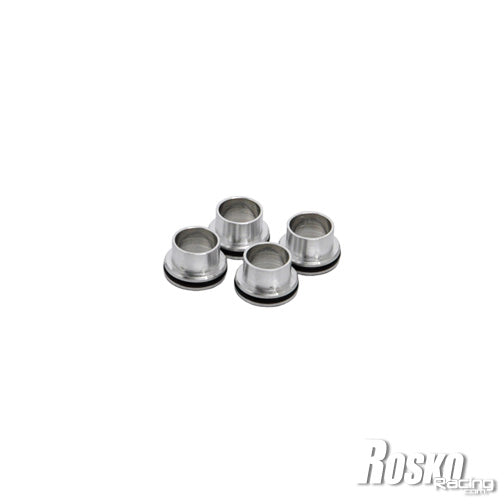 Rosko Racing H22 Euro-R RDX injector adapters are specifically designed to fit the factory injector pocket of the H22 Euro-R intake manifold.  These adapters have a 14mm ID for proper injector fitment and a stepped 21mm OD with an o-ring to secure and seal into a factory Euro-R intake manifold.  Because these adapters are stepped on the OD specifically for the Euro-R intake they fit a little deeper into the manifold getting the tip of the injector closer to the intake runner.
While these are meant to be a replacement part to the Rosko Racing fuel rail kits, they also work well with fitting the Bosch style injectors into the Euro-R manifold too.  Note however that the sole purpose of this adapter is to fit the injector into the manifold ONLY.  You will most likely have to alter the installed height of the fuel rail with non Rosko Racing fuel rail applications.  This means you may need to add or shorten the spacing of the fuel rail as adding this adapter will essentially make the injector taller.  You will need to make sure the installed height of the rail is correct so that you do not damage your fuel injectors when installing.
Comes as a set of 4 adapters.