KS tuned H22 Version 2 Timing Tensioner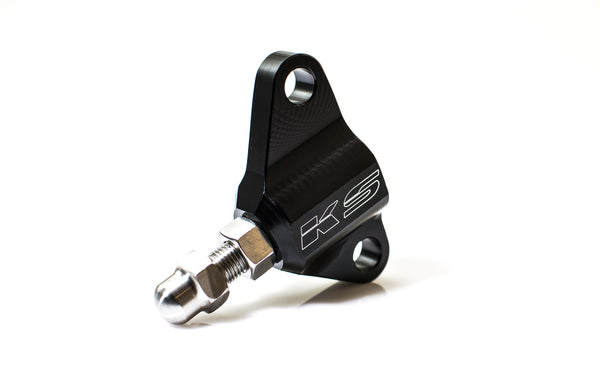 The V2 tensioner DOES NOT use a special wrench!

THE ORIGINAL AND STILL BEST ON THE MARKET!

100% CNC Machined Billet Aluminum and Stainless Steel

304 Stainless Steel stud and nut

6061 Aluminum tensioner body anodized black and engraved

Directly bolts on in place of the commonly failed hydraulic tensioner

Fits F20B, H22A (all variations), H23A Vtec
Do you have questions about this product? Ask us here
KAIZENSPEED's H22 Timing Tensioner directly replaces the stock H22 auto tensioner and eliminates the annoying H23 manual tensioner conversion. CNC machined from billet aluminum with a Stainless Steel tension rod and jam nut. No special adjustment wrench is needed with our tensioner!.
Installing the H22 Timing Tensioner takes less than five minutes during a timing belt change.  
Why replace it? The stock H22 automatic tensioner, also called a hydro tensioner is known for premature failure, causing bent valves at the least. Our H22 Timing Tensioner fixes that problem and eliminates the need for an H23 manual tensioner conversion.Simply remove two bolts and install our billet H22 Timing Tensioner.  Never use H23 manual tensioner conversion parts again!
For nearly a decade we've had the problem of failed auto/hydro timing belt tensioners on the H22 and F20b. Brand new hydro tensioners often fail right out of the box!  In the old days, we would use the H23 manual tensioner parts, which had a host of annoyances. Installation was time consuming and there are a lot of little parts involved in the conversion. The H23 tensioner spring can come off it's post and get chewed up by the timing belt. And most importantly the H23 tensioner pulley was larger which made installing the timing belt a real pain! Now you only have to remove two bolts and set the tension, which takes less than five minutes during a timing belt change.  
INSTALLATION VIDEO:
(Disclaimer: the timing tensioner design has been updated since the making of this video and it no longer requires a special wrench to set the lock nut. A regular 9/16" wrench can now be used)