Wick Fab H22/F20B/H23 VTEC Timing Belt Idler Pulley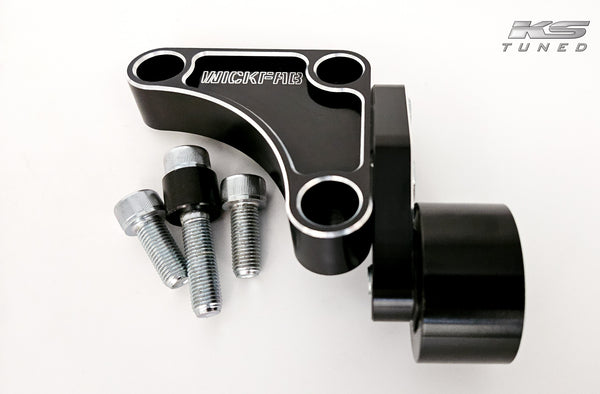 KS Tuned is proud to be the only US distributor of the Wick Fab H-Series timing belt idler pulley.  This idler pulley system combined with our H22 manual timing tensioner and walk blocker is the ultimate solution for timing set stability on your H22, F20B or H23 VTEC engine!  Run your timing belt with the proper tension and eliminate belt slap!
The H series engines are known to have an excessive amount of belt flap along the long front side of the timing belt, especially on engines with aftermarket cams and at high rpm. Wick Fab designed this secondary tensioner to eliminate this problem, reducing the chances of a skipped tooth. We have seen as much as 25mm of belt flexion during dyno testing, this flex is also making slight changes in the whole cam and crankshaft timing. 

This piece is beautifully designed then CNC machined from 6160 billet aluminum.  The black anodizing offers a clean finished look.
*This will only fit on cars that have power steering deleted as it bolts right on the head where the power steering pump is normally mounted.

*This kit is intended for use with H series VTEC head applications. It will not work with non-VTEC heads.
All the hardware needed for the installation is included in the kit.